Witcher the Enhanced Edition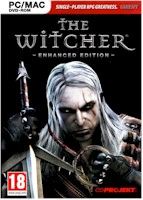 Witcher the Enhanced Edition
The Witcher has won critical acclaim with more than 90 awards and has sold more than 800,000 copies worldwide. The Witcher: Enhanced Edition is the definitive edition thanks to feature and content enhancements but also major technical improvements, all delivered in a premium high quality retail box.
A major portion of the English and German dialogue has been retranslated and rerecorded to match the original language version of the title with more than 5000 lines of re-written and re-recorded dialogue. The character gesturing system has been reworked and more than 200 new dialogue animations have been added to add more believability to the story telling. With new character differentiation system for NPCs, enhanced inventory with improved alchemy, reduced loading times, and 10 fully localized languages, alongside premium packaging loaded with high value content, The Witcher: Enhanced Edition is set to thrill even more RPG fans!
The Witcher: Enhanced Edition features:
** IMPORTANT NOTE ** THERE ARE SLIGHTLY DIFFERENT "WITCHER ENHANCED" PACKAGES BEING PRODUCED WITH DIFFERENT COMBINATIONS OF BONUS DISCS AND/OR PRINTED MANUALS. Game and game enhancements are the same among various packages but be sure to read below what is included with this Witcher Enhanced package.
Host of technical and visual improvements throughout the game
Re-scripted and re-recorded English and German dialogue
Improved combat reactivity with new animations
Instruction manual and official game guide: Note this package includes: 74 page electronic game guide on disc and 16 page printed manual.
Map for thorough exploration of The Witcher's world: map is a 6" x 4" map card
Important Note: This package includes a single DVD-ROM disc. No other discs are included
PC System Requirements:
OS (Operating System): Microsoft Windows XP Service Pack 2, Vista (must be up to date with the latest fixes). Tested to work with windows 7 (be sure to install any available game patches)
Processor: Intel Pentium 4 2.4 GHz or AMD Athlon 64 +2800
RAM: 1024 MB RAM for Microsoft Windows XP / 1536 MB RAM for Microsoft Windows Vista
Video: 128 MB Video RAM or greater with DirectX9 Vertex Shader/ Pixel Shader 2.0 support (NVIDIA GeForce 6800 or ATI Radeon X800 or better)
Free HDD Space: 8 .5 GB available hard drive space
Sound: DirectX 9.0c compliant soundcard, plus speakers or headphones
DVD: DVD-ROM 8x
MAC System Requirements: (Intel based mac)
OS: OS X version 10.6.8 or later.
Processor: Intel Core 2 Duo (any)
Memory: 2GB RAM
Video: Video card nVidia GeForce 320M (or better), AMD Radeon HD 6750M (or better) or Intel HD Graphics 3000
Free HDD Space: 10.5 GB free space on HDD
Reviews