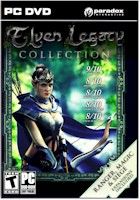 Elven Legacy Collection
4 challenging campaigns, with such diverse design, that they will tax you to the max! There are truly a few missions that are harder than a beautiful blonde to crack - but thats another story. Bonus and optional missions mean there is a lot of replayability for those that desire it. Every expansion has new content across the entire spectrum of features; either map design, artefacts perks, heroes or units.

Includes the original game and 3 expansions:
Elven Legacy
Elven Legacy: Ranger
Elven Legacy: Siege
Elven Legacy: Magic
The AI presents a real challenge even for a strategy vet like me. While the sheer number of unit types means a huge amount of combat combinations to think about when choosing how to attack your enemies. A complex set of abilities (perks) brings an extra dimension in co-ordinating your strategy as indivdual heroes and units can level up numerous times and gain different abilities. While the set of possible tactical options is increased by equipping your forces with an assortment of powerful artefacts.
The fantasy setting may not be something as appetitising to those of you who prefer the machinations of modern warfare, but the graphics are so beautifully crafted it makes the game such a joy to play. Together with no gameplay bugs makes this game just perfect. Longevity and a certain amount of replayability made this a cert. for my collection.
This has to be the best hex turn-based fantasy collection ever made.
System Requirements:
Windows XP
1.5 GHz Pentium IV, AMD 2000+
512 MB memory
3GB hard disk space
Video Card: nVidia GF FX 5700 or ATI Radion 9600 128 MB
DirectX compatible DirectX 9.0c

Reviews